Raise up your hand if you are sailing in the same boat like us – kids starting Science in Primary 3 and Maths Problem Sums getting more serious. Honestly, as parents, I feel our times were different. Fast forward to today's kids, Science and Maths curriculum is quite advanced even in lower primary years and I am not even talking about PSLE. English is a scoring subject but only when the grammar is clear.
When kids ask me solutions to their Maths Problem sums and answers to their Science MCQs, I get as clueless as them or even more. Another issue that I face as a parent is keeping track of numerous worksheets and answer sheets. In the jungle of papers, it's so difficult to correct the worksheets solved by kids. On top of it, quite a few times, I am at a loss of words to explain to them the correct answer or steps. I learnt Maths in a different way and have no idea of modern methods. As a full-time working mom of 2, I get very less time to study Maths and Science for kids and then teach them.
We heaved a sigh of relief when we opted for Geniebook. This Online Assessment-Led Learning Tool for Primary-Secondary is indeed very innovative and it's AI based. Developed by educators, tech wizards and designers to accelerate students' learning, Geniebook is a welcome way to learn.
Online Assessment-Led Learning Tool for Primary-Secondary
It's good that Geniebook caters to Primary as well Secondary MOE curriculum. Both my kids can benefit from Geniebook's AI that generates the worksheets for subjects like English, Maths, Science.
When they are doing their worksheets, such discussions and exchange of thoughts do happen which is not only great for bonding but also good to absorb what they have learnt by solving the worksheets.
GenieSmart
Worksheets are a proven way to practise and consolidate concepts. Geniebook gives a refreshing and convenient twist to worksheets where it's easy to generate the worksheets for a particular topic, solve it and get marks for it along with detailed explanation and solutions for the incorrect answers – all this happens Online!
I have found my kids to solve the worksheets with a focused approach probably because they get to know their marks immediately and that motivates them to try their best.
Geniebook has powerful data analytics features that gives a complete picture about strong and weak topics, how the child scores compared to national average and other areas of improvement. The stats are straightforward and even a kid can understand his / her progress.
AI is a buzzword and it's future. Geniebook's patented AI intuitively personalised worksheets to identify your child's academic strengths and weaknesses.
Their proprietary AI draws from a library of over 150,000 questions aligned to MOE's syllabus and recommends specific questions to help your child improve. You will also get valuable insights of how your child is doing academically through a real time progress report.
What I like the most about these worksheets is the fact that they are generated based on students' performance in previous worksheets. Students learn rapidly through these personalized worksheets.
Not just questions that are easy but kids also have to tackle questions from the topics that they are weak in. Some head-scratching moments are surely expected.
GenieClass
Worksheets provide regular practice and their LIVE and recorded Online Classes are a great way to reinforce key concepts. Expert teachers go through important topics and conduct quizzes to consolidate learning.

Apps for Students as well as Parents to Track Progress

Child app shows the current status of worksheets solved, topics that are available and kids can generate worksheets for their desired learning outcome. So they can focus more on certain topics first if they are going to be tested in CA / SA.
Parents can track the activities, scores and progress of each child via Geniebook Parent App. Personalized revision plan is generated to strengthen foundations and accelerate improvement.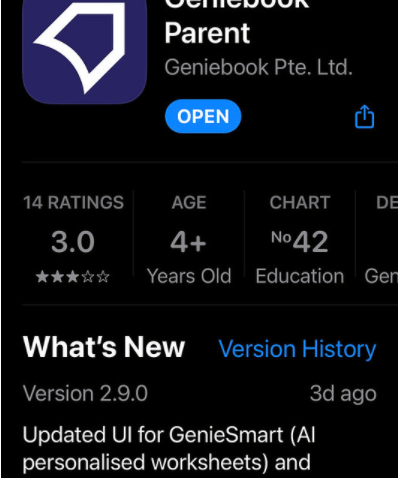 Whether it's laptop / desktop or tablet or phone, we have found Geniebook to give a seamless experience.
Earn Bubbles and Redeem Rewards
Best thing for Kids as far as Geniebook is concerned! Kids earn learning rewards AKA "Bubbles" for all the hard work they put in. These bubbles can be redeemed for prizes in Bubble Store.
From the comfort of home
During the pandemic, when there are restrictions on our movement and activities, Geniebook is the best thing that we have discovered. Learning never stops with it and kids can continue working towards their goals right from the comfort of home. Such a peace of mind to parents!
Power up online learning with Geniebook, help your child get the best out of it! Receive a complementary Strengths Analysis to know more about your child's strengths and challenges here> Geniebook.
---
Thanks for your continued love and appreciation for our media. We love to collaborate with brands and we love to get feedback from our readers. Did you check our platform "SocialMediaMomSG" for mompreneurs, local brands and ladies?
Drop a line on RainbowDiariesWorld@gmail.com / Shub@RainbowDiaries.com or Click here to get in touch with us. Happy to connect!