Social media and fitness craze have made activewear a popular trend these days. With a large number of young girls and women hopping onto the activewear bandwagon, the gym look has become the most sought-after look online. And, owing to this increasing demand, naturally, there are multitudes of tights available in the market today. So, you need to make a smart decision.
From rolling-down waistbands to extremely sheer fabrics, a pair of bad tights can be very uncomfortable to workout in, and to not forget, a great cause of embarrassment too! So, how does one navigate through the plethora of options and make the right purchase?
Read on to find out.
Choose your style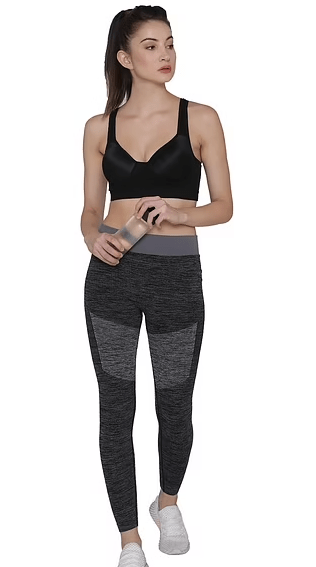 First and foremost, it's essential to choose the right style and cut of tights. Depending on the exercises you like to indulge in, you can opt for full-length tights, or a capri, or even a bootcut. Whichever style you choose, ensure the tights allow you to have freedom of movement, and not inhibit you in any way. These light and dark grey contrasting tights by Clovia are the perfect accompaniment for gym-goers. While working out, comfort is key, and these tights, made of spandex fabric, offer just the right level of comfort.
Keep fabric in mind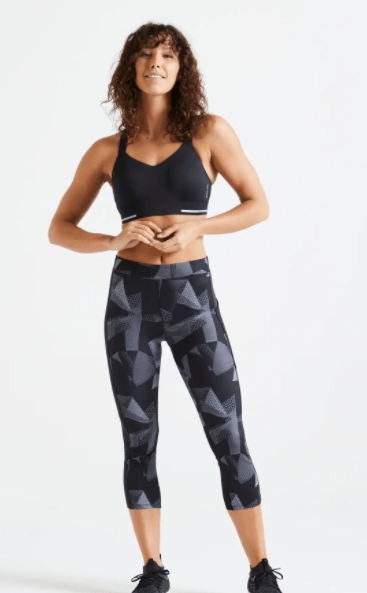 The fabric matters most! An energizing workout can be satisfying but also a lot sweaty. Sweaty workouts require a good pair of tights made with breathable fabric that help wick away the sweat and moisture. And, these legging tights by Decathlon are just that! They are made of breathable, stretchy material that is perfect for hot summers where you are bound to sweat a lot. They'll keep you cool and fresh with much ease.
Choose compression tights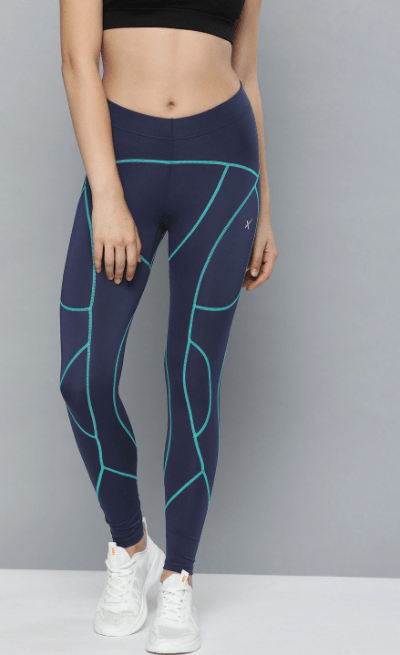 Compression tights are tights that are tightly woven to help increase circulation in your legs. If you tend to usually indulge in high-activity, intense exercises then, compression tights can be your savior! And, HRX by Hrithik Roshan seems to have just the right pair for you! They help reduce soreness in your legs after an exhilarating workout, as well as make your muscles look more taut and defined. Plus, they have anti-microbial technology that prevents odor, keeping you fresh all day.
Leggings for yoga
If you tend to only perform light-workout activities or are simply a yoga enthusiast, then you needn't buy compression tights. In this case, a well-fitted pair of leggings or yoga pants like this solid, black one by Nike will just do! But, yoga does involve a lot of stretching and posing, so ensure your pants are well-fitted, not slipping down, and neither sheer at the back. Look for breathable fabric and an elastic waist, and you're all set!
Pick your colors
Choose the colors and patterns on your tights carefully. Do you gym often during the day when it's hot? Then you'll most likely want to opt for lighter colors and avoid blacks entirely. Having said that, today, activewear tights have also become highly popular as public outfits, or for quick grocery runs. In that case, you can buy tights in a more versatile or subtle color. But if you are just going to be wearing them to the gym, then you can feel free to experiment with louder colors and fun patterns to add some fun to your gym routine. And, this one by Tuna London will make you look just fab!
Remember, the point of your gym tights is to make you feel utmost comfort while you workout. But, they also reflect your personality. So, don't be afraid of opting for quirky prints and different styles. Plus, it's highly advisable to try the tights before you purchase, to make sure you're spending your hard-earned money! With that, we'll wish you good luck in making the purchase of the right tights.
Read Also – How Active Wear Can Increase Your Workout Sessions?
---
Thanks for your continued love and appreciation for our media. We love to collaborate with brands and we love to get feedback from our readers. Did you check our platform "SocialMediaMomSG" for mompreneurs, local brands and ladies?
Drop a line on RainbowDiariesWorld@gmail.com / Shub@RainbowDiaries.com or Click here to get in touch with us. Happy to connect!