Homage is an award-winning for-profit social enterprise. It combines curated and trained care, therapy, and medical professionals with smart technology to manage and provide on-demand holistic home and community-based caregiving, nursing, rehabilitation, and medical services to seniors and adults. Operating in Singapore and Malaysia, Homage has over 5,000 care professionals that offer support to families as secondary caregivers.
The past two years have been especially draining for frontline workers of all sorts, as demand for nursing, home nursing and caregiving services have risen rapidly due to COVID-19.
To better understand how caregivers and nurses have coped throughout the entire COVID-19 pandemic, we spoke to a Care Professional Homage CP Sheik Fauzmi Fauzul who prefers to be addressed as Fauzmi, in lieu of Nurses' Day that falls on 1 August here in Singapore.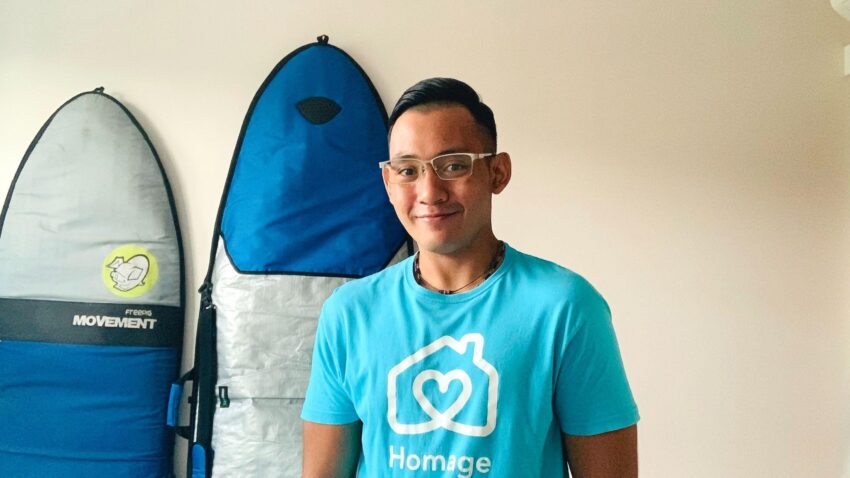 What was your motivation to become a Care Professional?
I have been a nurse prior to joining Homage and worked in different environments, with 2 years in the hospital and another two in a clinical setting.
My first interaction with home nursing is when my aunt needed home care support. Coincidentally, my friend introduced me to Homage and I decided to take a leap of faith and embrace the next challenge as a home nurse with Homage in October 2019.
How the pandemic has changed the scene and what are the experiences that you encountered during this situation?
The care needs of the care recipients and families do not change because of the pandemic. I still provide the same care according to their needs such as assisting with their Activities of Daily Living (ADLs) or nursing procedures. ADL assistance can range from showering to feeding.
With the pandemic, while more family caregivers are working from home and are better equipped to handle the needs of their loved ones, they still appreciate the support and respite Homage can provide. There are also heightened safety protocols I adhere to, such as mandatory health declarations for every care visit.
Facility-based visits were also put on pause with the COVID-19 clusters emerging from nursing homes. Previously, I would assist with the residents' personal hygiene needs.
What keeps you going despite all odds?
To be honest, I love being a Homage Care Professional. The challenges pale in comparison to the fulfillment I have in my role.
I now have the freedom to arrange my own work schedule with the support of an amazing Operations team. Being a home nurse also makes me remember why I became a nurse in the first place, which is to provide care for the needs of people wherever they may be.
This 'special' feeling was not something I experienced when caring for patients at the hospital, possibly due to the fact that I could not dedicate much time to every individual. Additionally, I had other admin tasks to complete during my shifts. I still give my very best in my care and receive Thank You cards from the patients and hospital, but it just seemed like I was more preoccupied over the time and tasks that I have for each shift than I was about my actual care for the patient.
As a Homage Care Pro, care visits have allocated time durations and I am able to dedicate myself fully to the care for that patient on a 1-to-1 basis, rather than worry over the time allocation. This allowed me to give proper care and feel a sense of fulfillment at the end of the visit. Such fulfilment never fails to make me happy and motivates me to always give my best to my patients.
Sometimes, the care recipient might not be receptive to having a stranger care for them, but with patience and perseverance, they will open up. A memorable incident was from one such care recipient, an elderly man with dementia. He was resistant to care initially but warmed up to my presence after a few days. We even managed to visit the park downstairs for a short stroll and spent time squirrel spotting. When I could not spot them, he would point them out to me.
I also have the opportunity to experience different caregiving visits. A unique one is by helping care recipients through cooking, art and music therapy.
Any message to people who would like to pursue nursing / caregiving as a career?
Every career will definitely have their challenges. Be it a doctor, a lawyer or even a nurse. It's always easy to take the easy way out and quit. But if you persevere and choose to keep moving forward, know that at the end of the road is fortunate bliss that only you will understand when you reach that point. Every career has a purpose, a doctor saves lives, a lawyer delivers justice and a nurse provides quality care to thankful recipients, so never give up!
Fauzmi is 27 years old and has been with Homage as a Care Professional for nearly 2 years (since late 2019). Fauzmi enjoys a good surf at sea in his free time and will also spend his weekends catching up on movies.
Happy Nurses' Day! We salute you for all the care you have been giving to our community.
---
Thanks for your continued love and appreciation for our media. We love to collaborate with brands and we love to get feedback from our readers. Did you check our platform "SocialMediaMomSG" for mompreneurs, local brands and ladies?
Drop a line on RainbowDiariesWorld@gmail.com / Shub@RainbowDiaries.com or Click here to get in touch with us. Happy to connect!