Fashion probably changes as fast as time. Trends come and by the time you try to catch up, they're gone! When you are a busy mama, it's not that easy to focus on this important F-word AKA Fashion. Now that things are opening up and offices are resuming, events are back, it's time that we ramp up our wardrobe. In the mind-boggling world of online shopping where people like me get confused with sizes, colors, styles and end up getting unnecessary unwanted stuff, it's a great idea to hire a personal stylist who can make things much easier for you.
Read on to find more about our experience of StyleNook – a personal shopping service for ladies that curates clothes and accessories to match your personal taste, budget, fit.
Personal Stylist / Personal Shopping – these words give you jitters? Are these expensive services? We thought so too at first but fret not! Personal Stylist services on StyleNook are extremely wallet-friendly. Here are our 3 reasons why we love Shopping on StyleNook.
Reason 1: StyleNook is straightforward
Take a Style Quiz: Tell StyleNook about yourself, your fashion preferences, budget and more. A simple quiz that will give clarity to StyleNook stylists and at the same time, it gives you valuable insights about your own fashion choices.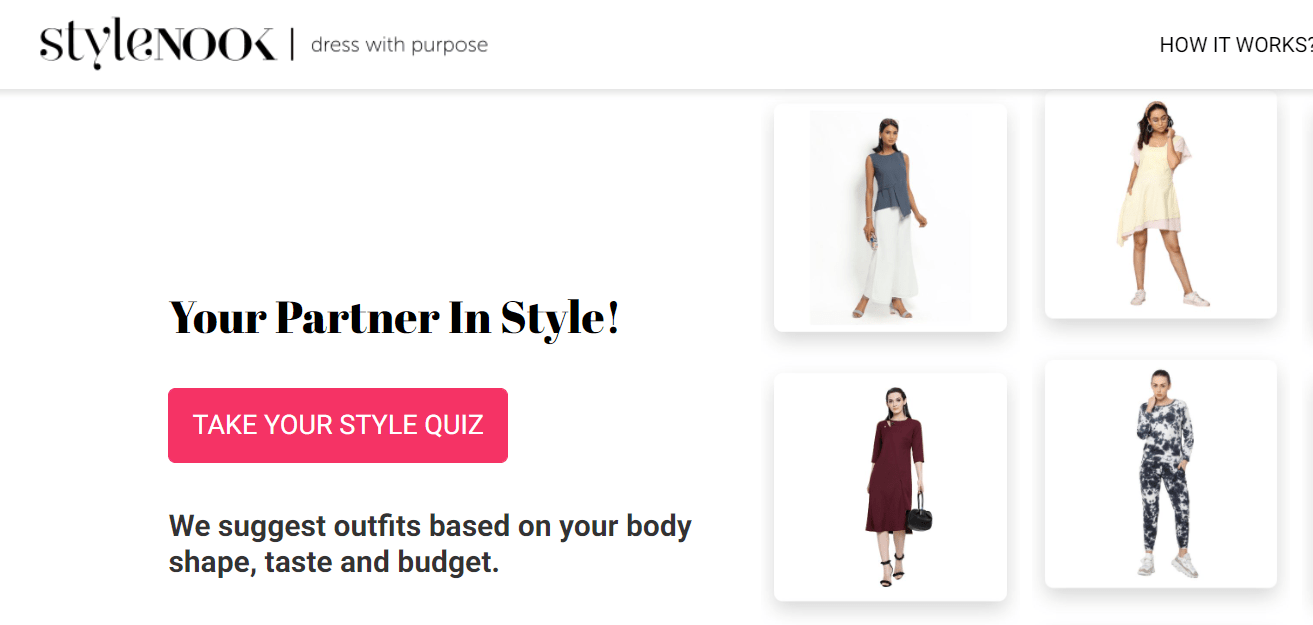 Just give as much information you can to StyleNook. It will help them to style you better. Give details about what you are comfortable / not comfortable with. So that the stylist can pick out pieces that flatter your body type.
Building your StyleNook profile is easy and fun. Just takes minutes!
Request Curation: After your quiz, you can get clothes and accessories selected for a styling fee of just ₹250 i.e less than 5 SGD! It gets adjusted towards anything you buy from StyleNook.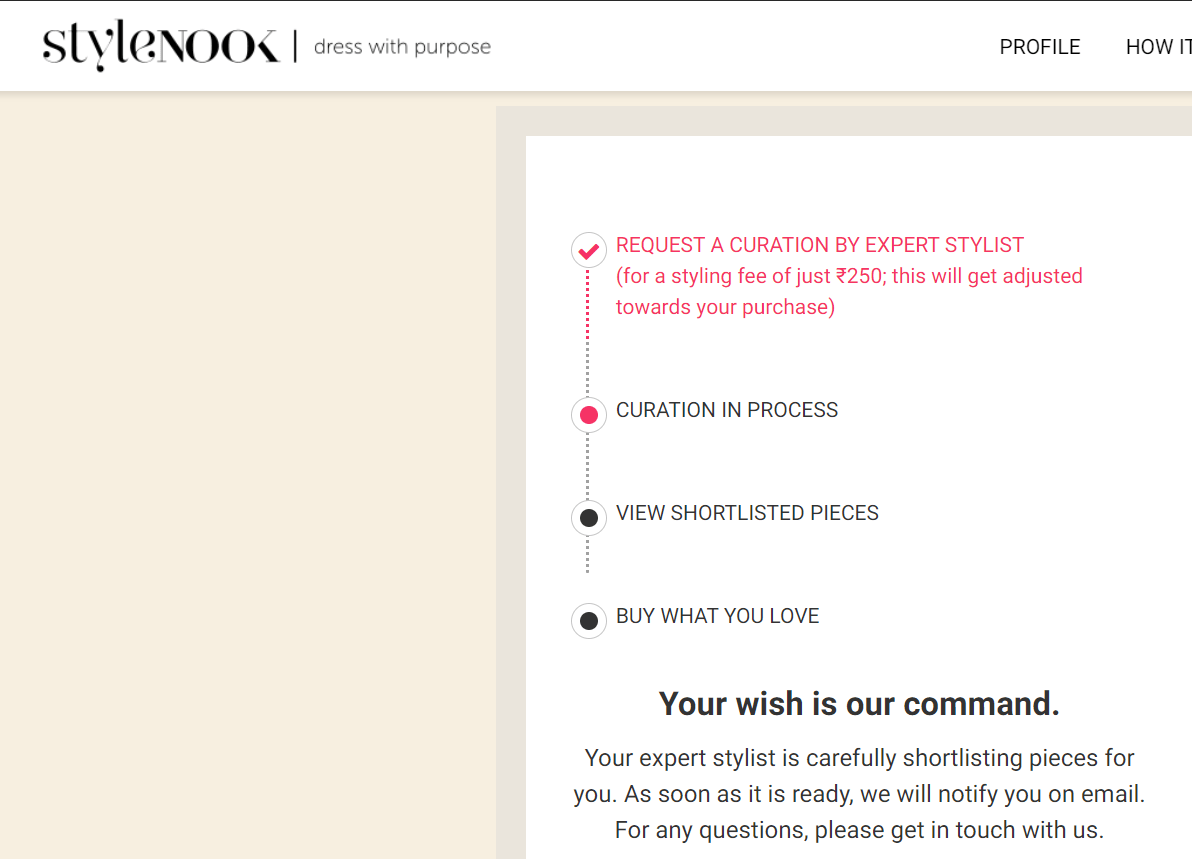 Checkout: View products shortlisted for you within 5 days of placing your request. Just keep what you love and give feedback for what you didn't. Pay for items that you choose from the curation. Simple!
Get your order shipped: StyleNook will pack your products with Covid-19 safety protocols and ship them out to you.
Reason 2: Personal Stylist for you
Now like I mentioned at the start of this article, I can't really keep up with all the trends, visit all the online / offline shops and spend time and energy on curating the shopping haul for myself. Personal Stylist at StyleNook really proved to be helpful.
I like the fact that the outfits suggested by my stylist were cool, stylish and most importantly wearable. I can also think of multiple combinations of StyleNook outfits with my current outfits.
StyleNook creates curation that takes into consideration your choices, body type, size and other preferences based on the Style Quiz that I completed at the start. I also loved that the curation consisted of shirts, pants, jumpsuits, dresses and accessories – a complete haul I must say.
So yes, this personal stylist service of StyleNook, I definitely will recommend to you all too.
StyleNook team was very considerate of me as a first-time user and the personal stylist designed one free curation for me when I wasn't too sure about what to choose in my first curation.
Reason 3: Cost Effective
If you want to look good and up your fashion game, it doesn't mean you have to spend a bomb. StyleNook is for ALL ladies. Even in a small budget, you can avail of a Personal Stylist Service + Clothes and Accessories they choose for you.
You don't have to spend any fixed cost – how much you spend is decided by you. When you take your StyleNook quiz, you state your budget and your stylist will curate the products that are within your budget.
Nominal fee of ₹250 per request is charged and it is redeemed and adjusted against your purchases. Do watch out for StyleNook promos to get even better deals!
Singapore ladies, check this out!
StyleNook is an online shopping service and they ship everywhere in India. StyleNook also ships to Singapore and Dubai.
So for those of you based in Singapore, it's a hassle-free experience to shop what you love and that too specially curated for you by Expert stylist.
Also, do you want to make special occasion of your loved ones even more special? StyleNook Gift card is a great option. You can either choose to EMAIL the gift card to ladies in your life or MAIL to their address. Either ways, it's a delightful gift idea. How about gifting it to yourself as a self-love gesture?
More information about StyleNook
Website | Instagram | Facebook
---
***Pic. courtesey: StyleNook website / Social Media pages.
Thanks for your continued love and appreciation for our media. We love to collaborate with brands and we love to get feedback from our readers. Did you check our platform "SocialMediaMomSG" for mompreneurs, local brands and ladies?
Drop a line on RainbowDiariesWorld@gmail.com / Shub@RainbowDiaries.com or Click here to get in touch with us. Happy to connect!